For some time structural adjustments including massive cuts to state-funded activities such as education and health or the  privatization of public enterprises and services seemed something limited to the periphery, the so-called South be it Latin America, Africa or Asia . However, as ultimate evidence of the global nature of capitalism the current recession has brought to our very shores and homes the same kind of rigid policy formulas, dictated by the very same unelected financial institutions.  In this article, appeared in Red Pepper in June 2015 Thomas McDonagh looks at the parallelisms between Bolivia´s Water war and the ongoing campaign in Ireland against the privatization of water. As usual, we have added some pictures, hyperlinks and context info at the end.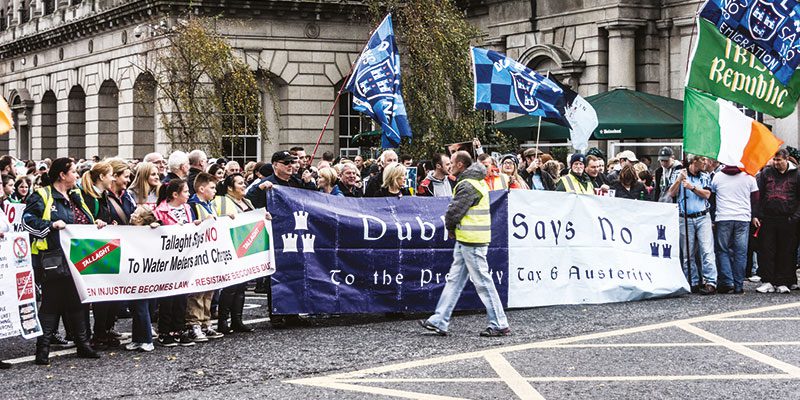 Water protesters in Ireland. Photo: William Murphy, Flickr
From Ireland to Bolivia, there's something in the water
Thomas McDonagh Red Pepper
For months people across Ireland have been protesting against the introduction of charges for domestic water – which, until the first wave of bills arrived in April, had been paid for through direct taxation. Opposition to the charges peaked on 1 November, when more than 150,000 people attended 90 different protests across the country, building on months of local campaigning. Equally spectacularly, just weeks earlier almost 100,000 people took to the streets of Dublin to express their anger at a reform that was agreed as part of the 2010 bailout brokered by the Irish government with the European Union and International Monetary Fund. The campaign still has considerable momentum and may well get a new lease of life as payment becomes a pressing issue.